This Week's Menu
Weekly menus are published on Monday
Orders must be received by Wednesday
Meal pickups and deliveries are on Sunday
Pickup orders in Grand Parkway/99 at I10 area.



To purchase gift certificates, please contact Abbie at abbie@abbiesplantbasedcuisine.com.

Pay with Paypal or Credit/Debit Card
Disclaimer: Meal photos might not always match meal descriptions exactly.
Please base selections on meal descriptions.
*** Place your order by Wednesday ***
AVAIILABLE THIS WEEK




Please select from our Static Menu!




DELIVERY

ORDER


DELIVERY SERVICE!


Limited to orders of
$50 or more


You have the option of having your meals delivered if your order totals $50 or more. Cost of delivery is $6.00 within a 30 mile radius, $10 over 30 miles, and $14 over 35 miles.

Want To Tip The Delivery Driver?






***ATTENTION!***
If you have probelems using the PayPal "Add to Cart" and "View Cart" buttons, please click here to place your order.
---

Our Static Menu


(Available every week)




Veggie Burger Meal
Burger patty made with black beans, kale, mushrooms, carrots, spinach, sweet potatoes, seasoning and served on a plantain bun with all the condiments. Comes with chef's choice of two sides.
$12.50
Big Fat Loaded Greek Salad & Fresh Fruit
Romain lettuce, cherry tomatoes, english cucumber, black olive, chickpeas, banana peppers, artichokes, red onion, sun dried tomato, vegan feta cheese and homemade Greek salad dressing.
$12.50
Walnut Meat Southwest Salad with Fresh Fruit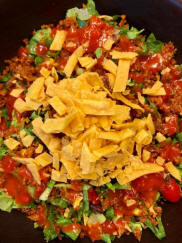 Romaine Lettuce, Spinach, Walnut Meat (Walnuts, Sun Dried Tomatoes & Seasoning) Black Beans, Fiesta Corn, Cherry Tomatoes, Green Onions, Cilantro and Salad Dressing.
$12.50
Loaded Vegan Nachos
Walnut Meat, Cashew Nacho Cheese, Tortilla Chips, Black Beans, Fiesta Corn, Pico, Guacamole, Salsa, Sour Cream & Jalapenos.
$12.50
T-Shirts Now Available
---


Chef's Note
Vegan Baking Swaps
Vegan Foods To Eat For Energy